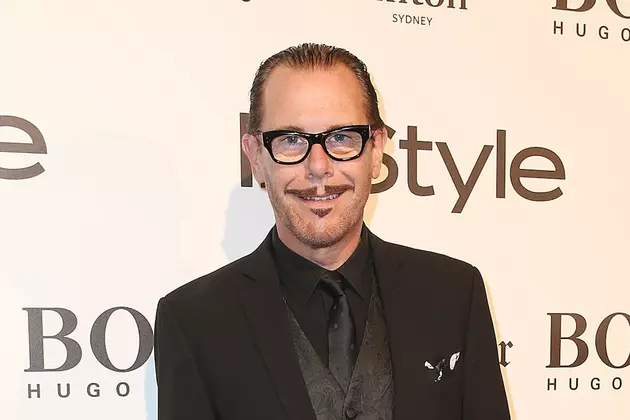 Former INXS Guitarist Kirk Pengilly Misses the Butt-Slapping Culture of the Past
Mark Metcalfe, Getty Images
It seems former INXS member Kirk Pengilly is longing for the old days when no one mistook a "compliment" for sexual harassment. When recently asked for his thoughts on the spate of sexual misconducting allegations against powerful men, the guitarist opened up.
"I really loved the '60s and '70s when life was so simple and you could slap a woman on the butt and it was taken as a compliment, not as sexual harassment," Pengilly said yesterday at a Movember charity event in Melbourne, Australia, according to the Sydney Morning Herald.
He has already faced some public backlash in Australia, where an opinion piece titled "Dear Kirk Pengilly, Slapping a Woman's Bum Was Never a Compliment' ran in the Herald Sun. "Please keep up, Kirk, it's quite possible the women being bottom-slapped in the '60 and '70s were no more chuffed to be on the receiving end than women are now,"  Wendy Tuohy wrote. "Pengilly is just speaking about the way things were, but those days are, thankfully, over. So Kirk and your ilk, pay as many compliments are you like, but in 2017, please keep your hands to yourself."
He had been asked about the sexual harassment claims against film mogul Harvey Weinstein and Australian celebrity gardener Don Burke. The uncovering of years of sexual harassment and assault began with rich and powerful men in Hollywood, but has already spread to a variety of industries.
In the music community, Icelandic singer Bjork recently came forward with details about harassment by a film director. Brand New guitarist Jesse Lacey has been accused of sexual misconduct against a teenager beginning when he was in his early 20s. Kid Rock was among several clients who fired their publicist Kirt Webster after he was accused of sexually assaulting an aspiring young country singer.
INXS Albums Ranked