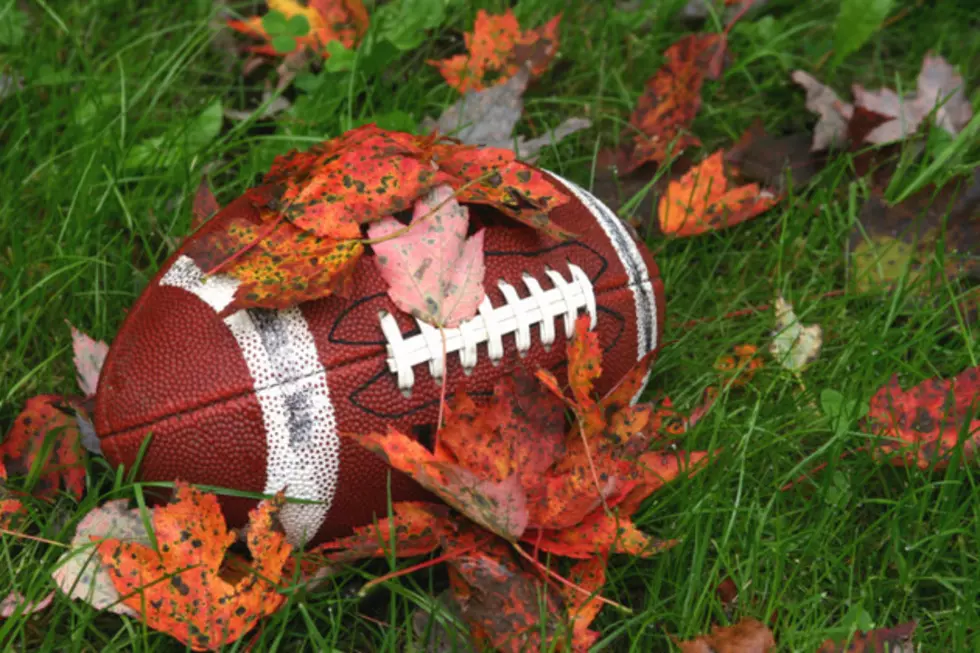 Pleasant Grove Flying High Into Second Round of Playoffs
James Boulette/ThinkStock
At the beginning of the year we told you that the Pleasant Grove Hawks were looking to soar to new heights this season, and they have done just that.
The Hawks shook off a slow start and have finished the season red hot, beating ranked teams along the way and flying into the second round of the state playoffs.
Coach Josh Gibson and his staff and players have done a phenomenal job against an extremely tough schedule. Coach Gipson says, "we feel like we played one of the hardest schedules in the state of Texas. Every non-district opponent was from a bigger school that made a playoff run the year before and 3 of those 5 were state ranked, and 8 out of 10 of the teams they played during the regular season made this playoffs this year."
But that tough schedule, just made these Hawks much better as the season progressed. There was never in quit in any of the coaches or players and here they stand today as the only Texarkana school still playing football in mid November.
I asked Gibson about the defense which has been the shining light for this team from the very start of the season. Gibson says, " our defense plays HARD and FAST. We pride ourselves on getting 11 players pursuing  the ball each and every play at full speed." Some adjustments by the coaching staff put the players in the right places and everything seemed to fall in place.
Gibson credits his defensive coaches and the players, "our defensive coaches have done a great job helping the kids take steps each week. We don't have a standout on defense, they ALL do a great job as a unit."
Another area that the Hawks have excelled at this year is special teams. And that part of the squad has indeed been "Special" this year. PG takes what the coach calls a college approach to that phase of the game and it certainly shows the effort and time they have put into it. They have tried 13 onside kicks this season and been successful on 10 of those attempts.  That is a percentage that is simply unheard of, what a great job by the kicker and the kick unit.
Kicker Matt Day has been on fire, kicker field goals of 41 and 50 yards in last weeks playoff game! The special teams unit has also block a handful of kicks this year that turned into points.
The offense is one place where the Hawks did struggle particularly early on. Coach Gibson says, "we struggled early on because we changed our offensive philosophy from the previous two years, we wanted to throw the ball more this year and the approach wasn't working."
About a month ago the coach went back to their traditional Wing T formation and the rest is history as the team has not lost a game since and has been averaging 36 points a game, having beaten #11 Pittsburgh and #5 ranked Gladewater, plus beating Rusk in the opening round of the playoffs.
This week the Hawks will take on Wills Point in the Area round of the playoffs. They come in hot as well having won 7 in a row. Coach says the key to victory is playing physical on both sides of the ball and eliminating the self-inflicting wounds like penalties and turnovers
Gibson is extremely proud of his bunch, " This team has been a joy to coach all year and I couldn't be more proud of them, Our number goal is GROWTH. We want to grow personally and as a team." It is obvious that with wins over state ranked opponents and a playoff victory that is exactly what is happening at Pleasant Grove.
Gibson says that he is most proud of how close the team has grown during this journey, and that they are a close knit group, that truly treats each other like family. They actually enjoy coming together to practice and spend time together.
You know that might be one reason why they have been so successful as the season wore on. I believe there is an old saying that you can mess with me, but don't mess with my family. Those players are taking care of their family for sure.
Coach Gibson who is of course not just the head football coach but the Athletic Director at PG and is enthused by all the athletic teams and extra-curricular programs at the school. They have finished 4th in the Lone Star Cup out of 200 Class 4A schools, which has to do with all kinds of sports and playoffs. Something remarkable is that over the last two years 100%, that's right all the boys and girls teams at the school have advanced to the playoffs and that is continuing this year.
As Coach Gibson puts it, " It's a great time to be a part of HAWK NATION."
There will be a Community Pep Rally inside the Pleasant Grove High School Gym this Thursday night to root on the football team. The school will also recognize the Tennis, Cross Country, and Volleyball teams and introduce the basketball teams as well. The Dance and Cheer units will perform as well.
This Hawk Nation is on a roll and has indeed soared this season. The sky is the limit as they say. Who knows they may be having turkey and dressing next week for Thanksgiving while preparing for another round in the playoffs.
Here's hoping that happens. Go Hawks! Beat Wills Point. The community is supporting you efforts and extremely proud of what you have already achieved.