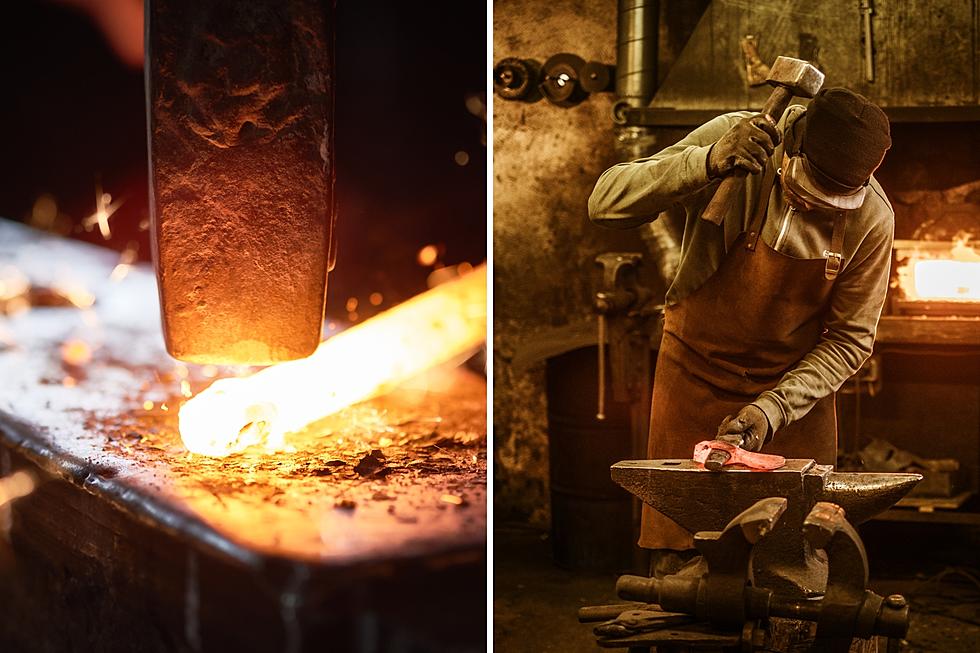 Tonight's 'Forged In Fire' Watch Party Canceled Due To Weather
TC Forged Watch Party - Canva
UPDATE: Tonight's watch party and open house at Texarkana College has been canceled due to the nasty weather and potential flooding dangers. Watch it though, great show tonight featuring local bladesmiths.
Original Story:
The "Forged In Fire" TV hit TV show on the History Channel is hitting the road for the season 10 opener, the first stop is Texarkana, Texas, and the Bill Moran School of Blade Smithing.
Wednesday night, October 4, Forged In Fire season 10 opens up right here in Texarkana and features three of Bill Moran School's top students battling it out to make their finest blades.
I'm seriously a little giddy, I love that show.
Bonus!
Okay Blade-junkies, here's a fun idea for you, how about showing up for a Watch Party Wednesday night at TC in the Stilwell Theater? Plus, if you come early, you can take a look around the Bladesmithing School during the open house first.
6:30 PM - Bill Moran School of Bladesmithing Open House
8:00 PM - Watch Party in the Stilwell Theater on the TC Campus
If you have ever considered learning the skill of banging out your own blades, you should seriously consider the oldest Bladesmithing School in the country. It's right here at Texarkana College.
For more information, click the links:
Texarkana College - Bill Moran School of Bladesmithing 
History Channel - Forged In Fire
Whatever you do, don't miss Season 10, Episode 1, next Wednesday night at 8 PM Central Time on the History Channel.
Arkansas' Most Expensive Home For Sale is $8.9M
A spectacular 5-bedroom, 9-bath, 9-car garage, single-family home located in Fort Smith, Arkansas.
Gallery Credit: Jim Weaver
PICTURES: Look Inside Lisa Marie Presley's Oceanfront Florida Mansion
Lisa Marie Presley's former mansion in Florida is for sale, and pictures show a stunning oceanfront property fit for rock royalty.
Gallery Credit: Sterling Whitaker
Most popular grocery stores in America
Gallery Credit: Stacker