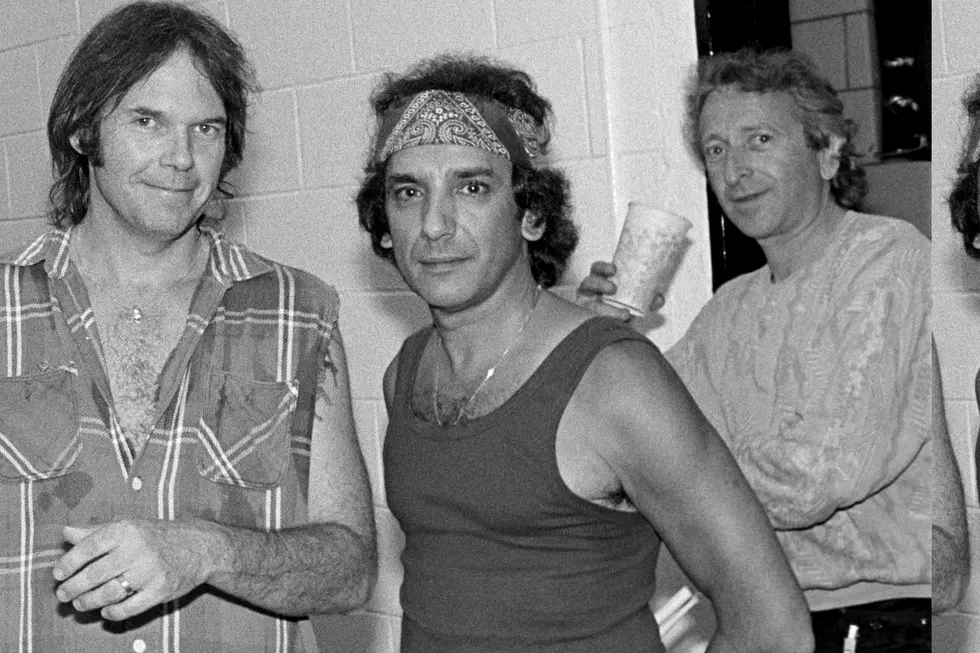 Elliot Roberts, Neil Young's Manager for 52 Years, Dies at 76
(L-R: Neil Young, Ralph Molina, Elliot Roberts) Ebet Roberts, Getty Images
Elliot Roberts, who'd been Neil Young's manager since 1967, died at the age of 76, a spokesperson confirmed to Variety. No details were given.
He'd also managed Joni Mitchell from the start of her career until 1985, and, at her suggestion, signed up with Crosby, Stills & Nash. Forming the Geffen-Roberts Company he also worked with the Eagles, Jackson Browne and others. Geffen and Roberts went on to create Asylum Records and signed many of those bands to the label. Later he managed Tom Petty, Yes, Devo and Talking Heads, among others.
"Elliot was a funny, brilliant friend and manager," Graham Nash told Variety. "His life touched many people, and he brought forth the best in people." He added that Roberts had been the "glue that kept CSNY together in our early years" and that his passing left "sadness in my heart."
Roberts was born in New York and had become involved in gang culture before deciding to work in the music industry. He met Geffen when they both worked in an agency's mailroom. Later, meeting Mitchell, he accompanied her on a tour at his own expense before they agreed a management deal. However, the connection between Roberts and Young remained the strongest element of his career, lasting 52 years.
"Because I tend to avoid the confrontations and delivering bad news, I am not good at doing any of that," Young wrote in 2013 memoir Waging Heavy Peace. "Elliot is. … Just as I wake up every day with a new idea, he wakes up every day with a new approach to solving the problems that arise with the projects I am already immersed in. There are a lot of them. This is our pattern." In another book, 2002 biography Shakey, Young said: "How did I know Elliot was the one? It was obvious. He was a lotta fun. As long as I give Elliot good direction, he does what he has to do to protect me … Elliot's got soul."
"Neil had a lot of things that were important to us -- not because they sold well," Roberts told Billboard in 2016. "I think of it as we're introducing him to a younger audience, a new audience. We know there's our core audience that's 50-70 or so. That's always been the case, and it's nice to actually have. But it's like discovering Dylan -- you may like EDM, but at some point in your life you'll be into Dylan and you'll get it, whether you're 23, 24, 21 or 26. Discovering Neil or discovering those catalogs, that material."
Among tributes paid online, Red Hot Chili Peppers bassist Flea said: "I liked Elliot Roberts a lot. He was a kind, thoughtful, and helpful man. So sad to hear of his passing. Love always." Michael Des Barres called Roberts "a great man" and "a man with soul," adding that he'd "cared for his artist's interests sometimes more than he cared for his own." Jason Isbell of Drive-By Truckers said Roberts had " laid the blueprint for how to manage us crazy artists and our bizarre, longshot careers," continuing: "Grateful to those who make it possible for us to work and be happy."
Rock Stars We've Lost in 2019