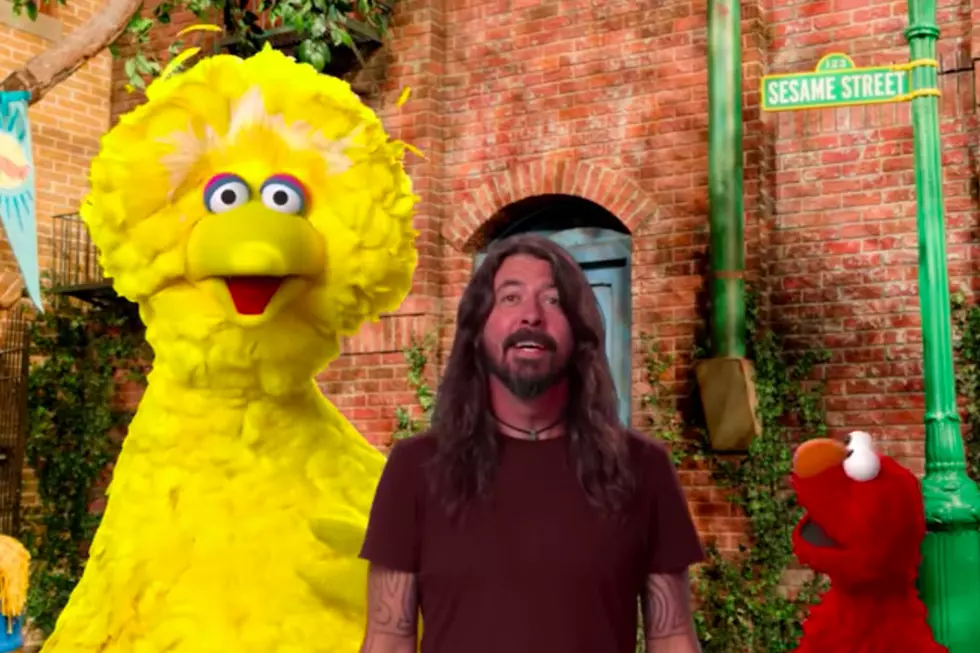 Watch Dave Grohl Sing With the Muppets on 'Sesame Street'
Sesame Workshop
Sesame Street kicks off its 50th season this Saturday (Nov. 16) and they've roped in Dave Grohl to help them celebrate the milestone anniversary. The Foo Fighters frontman joined Muppets Big Bird and Elmo to sing "Here We Go."
You can see it below, where Grohl is introduced by Elmo. "It's nice to come here and be with my friends, Big Bird and Elmo," he says. "You know, I was just thinking. There's friends everywhere, even the ones that you don't know." After Big Bird tries to figure out the logic of that sentence, Grohl explains, "I just mean there's lots of people all across America we could be friends with. We just haven't met them yet."
Big Bird seems thrilled by that concept, and they launch into the tune, which is about the joys of traveling across the U.S. and learning about the diversity of the country: "Here we go / We're on our way / New adventure every day / Gonna try new foods and learn new names / Sing new songs and play new games." As they sing, the background behind them shifts to various locations  -- urban, rural, suburban, mountains and the desert -- around the country
NME notes that Grohl's involvement in the show was first revealed last year, when pictures from his shoot showed up on social media, and that this wasn't even his first encounter with a Muppet. In 2015, he performed a drum battle with Animal on ABC's short-lived The Muppets television series.
https://youtu.be/rv7RgK2Da2s
31 Times Muppets Met Rock Stars