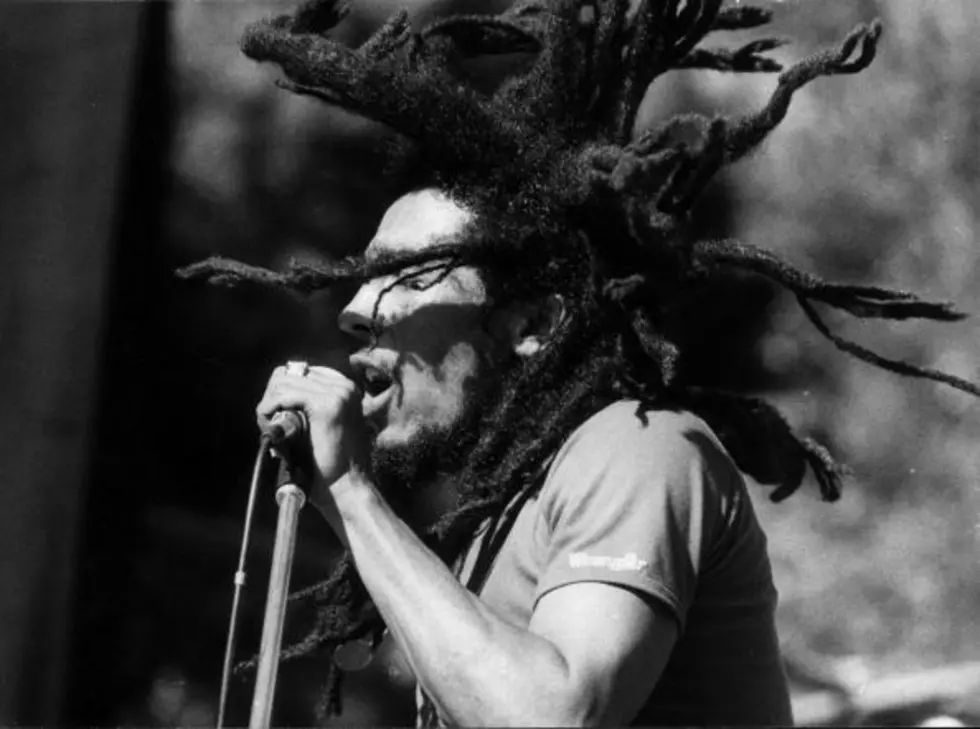 This Day in History – Bob Marley Dies from Cancer [VIDEO]
Keystone/Getty Images
Here in 2012, you simply cannot think of Jamaica, or hear tropical reggae beats and not think of Bob Marley.  Marley was considered one of the founding fathers of reggae, and is still by far the most famous, and recognizable reggae artist ever.
He was born Robert Nesta Marley on February 6, 1945 in St. Ann Parish Jamaica. His father was a middle aged white Jamaican Marine, and his mom an 18 year old black Jamaican lady.  When he was age 9, he moved to Trenchtown, a rough and tough Kingston slum.  Trenchtown is where Bob met and became friends with Neville 'Bunny' Livingston (Bunny Wailer), and Peter McIntosh (Peter Tosh) then at the age of 14, the young Marley dropped out of school and started making music with his friends.
Bob Marley, Peter Tosh, and Bunny Wailer formed the group "The Wailers" and performed together for many years.
In 1980, Marley opened for the Commodores in New York City.  He had no costumes, no stage design, or choreography, but completely mesmerized the crowd so deeply with his music that he stole the show, and the Commodores were a complete let down to the audience after witnessing Marley's performance.
After doing the shows in NYC, Marley was jogging in Central Park, when he collapsed.  It was found that cancer had grown on an old soccer injury to one of his feet, and had spread to his bones, brain, liver, and lungs.  It was less than 8 months of receiving the diagnosis Bob Marley, reggae music's most important standard bearer, died in a Miami hospital. He was only 36 years old.
(Saw this posted for the occasion last year...)

The music and legend of Bob Marley continues today, and one of my favorite videos proving that is this "Playing for Change" production of "One Love"...it is heart warming to know that song has touched so many people all around the world, and the video is very cool...
Inspired by Bob Marley's vision of unity, peace, and love, the Marley family started the organization "1Love", a global call to arms dedicated to giving back through charities that empower individuals and groups to take action for sustainable and responsible living. For more information visit the 1Love Facebook Page or the 1Love official website.
There is a new movie celebrating the life of Bob Marley titled "Marley" scheduled to be released on DVD in August, and from the people I've spoken to that have been able to see the movie in advance tell me it is a "must see". I cannot wait.
One Love, One Heart... let's get together and feel alright.  I am a fan, and always will be, and not of just the music, but his philosophy on life, love, and happiness too. Rest in peace Bob, and Jah bless.