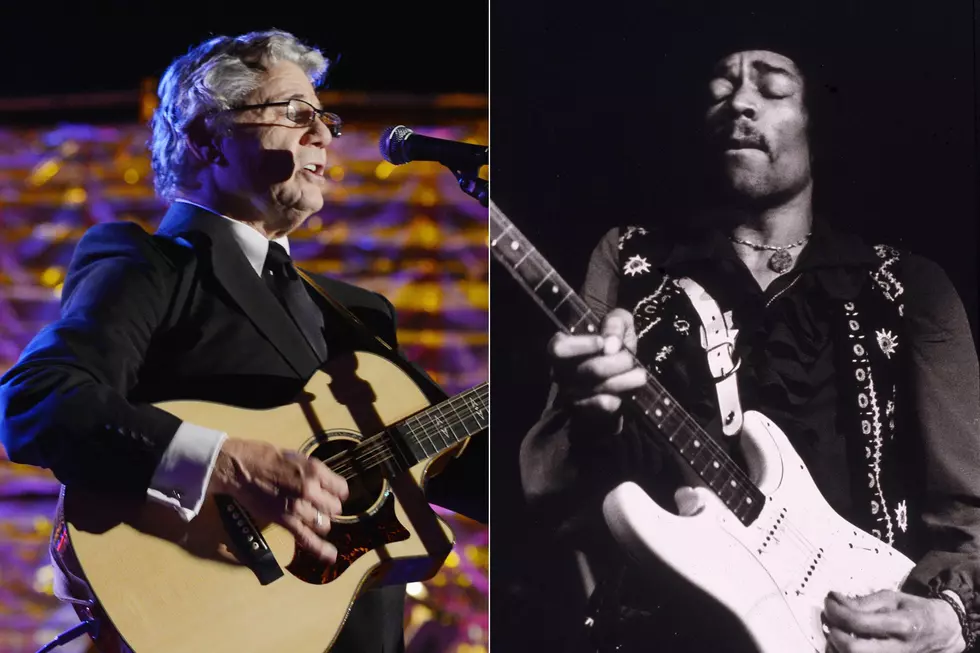 Steve Miller Hated Jimi Hendrix's Burning Guitar Stunt
Larry Busacca / Frank Micelotta, Getty Images
Miller, who was also on the bill at the 1967 event, recalled watching as Hendrix torched his Fender Stratocaster and wasn't impressed by what he saw.
"I thought that was pathetic," Miller told the Washington Post in a new interview. "When I saw Jimi Hendrix stop playing the music he was playing and get down on his knees and pull out a can of lighter fluid and squirt it on the thing and light it, I went, 'Boy, this really fucking sucks.'"
Miller, who's spoken out against the excesses of the music industry in the past, also recalled how he had stuck to his guns when concert bookers tried to talk his price down for performances – even at the age of 12, when he was in his first band, the Marksman.
"They'd say, 'Hey, this is Bobby Jones at SAE house, and I understand you've got this rock band. How much is it?'" he related. "I'd say, 'It's $125.' The guy would go, 'That's an awful lot of money.' I'd say, 'Thanks for calling, man. If you change your mind, let me know.' I'd hang up the phone."
He noted that the "phone would ring and they'd book us. I don't know why I was this way at the age of 12. But I didn't want to hear your sad story. My price was fair and it was good, and I had the band booked in three weeks for the whole school year."
Colleague Les Dudek offered his own recollection of a moment that proved Miller's belief in his own value. It took place in 1976, after Miller decided to leave California and buy a farm in Oregon.
"He had paid for everything," Dudek said. "He had all kinds of trusts set up. I asked him one day, 'Steve, why did you move from California?' He said, 'Les, in California, those people invent ways to steal my money.'"
Steve Miller Band Albums Ranked