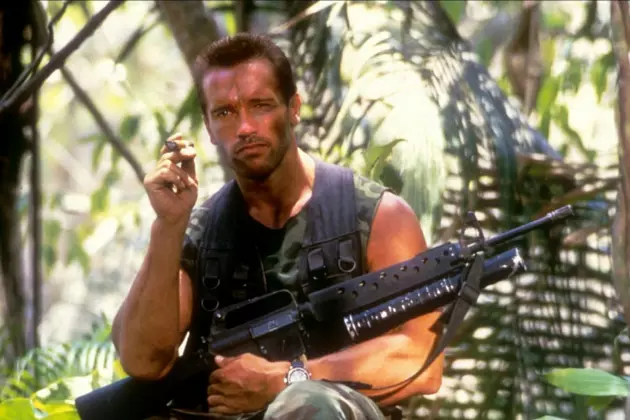 Shane Black Reveals a New 'Predator' Hero That's Definitely Not Arnold Schwarzenegger
20th Century Fox
Neither Shane Black nor Arnold Schwarzenegger have confirmed the actor's return for The Predator, though the two have expressed interest in the possibility — because how could they not? But one thing is for certain: If Schwarzenegger does come back, he won't be playing the primary protagonist this time around. Black says as much in a new interview, where he reveals the current name of the hero in his Predator sequel and discusses his plan to "event-ize" the franchise.
Black's appearance on a recent Empire podcast (via The Playlist) is unsurprisingly filled with great stuff, and it's definitely worth a full listen if you're a fan of the filmmaker behind Kiss Kiss Bang Bang and The Nice Guys. Obviously, Black also discusses his upcoming projects — like The Predator, the new sequel that he developed with Fred Dekker.
Everyone wants to know if Arnold Schwarzenegger will reprise his role as Dutch from the 1987 classic, but that's not something Black can (or will) confirm just yet. Previously, the actor said he was planning to have lunch with Black to discuss the possibility, while Black has only offered that there are two versions of the script — one with Dutch, one without — and he's already chosen one.
While we wait to find out if we're getting the Schwarzenegger version, Black revealed the name of the new hero who will fight the iconic alien creature:
The hero of the new one, the name I've given the guy in 'Predator' right now is Quinn Mackenna. And that may change.
So even that isn't set in stone, but whoever he is, he's definitely not Dutch. Even if Schwarzenegger returns for the sequel, we'd already assumed that his role wouldn't be too big.
Even more interesting than the new hero is Black's approach to making The Predator. Sequels are difficult enough already, and even more so when the creature's last few appearances were so terribly disappointing. How will Black get us excited for a new Predator movie? Here, the filmmaker explains while getting in a solid Adam Sandler diss:
We live in a culture where everyone's like, '[I want to] know everything about it before it comes out, and I want to be able to see every moment, and i'm gonna go back and forth on the goddamn YouTube channel and get every goddamn moment and every Easter egg.' [But] I'll tell you a little bit about it. It's an attempt to event-ize the 'Predator' and make it more mysterious. The Predator has been so overdone in a way — very low budget with a guaranteed return, every couple of years there's a knock off churned out. It's gotta get to the point where people buy their tickets in advance instead of saying, 'Oh honey look, another Predator movie. Nah, no, Adam Sandler's got this thing on TV let's do that instead.' I want people to say, 'The Predator is coming, I know it's coming, we want to see it, it's mysterious, interesting, it's got the same sense of wonderment and newness that 'Close Encounters' had when that came out.' That's what we want. That's very impossible to achieve, but we're going to try.
Black has long been one of Hollywood's most valuable screenwriters, thanks in no small part to his ability to describe things in ways that are engaging and exciting. If you've never read one of Black's scripts, you should make a point of seeking them out. He has a real knack for taking the most mundane scene and setting descriptions and making them just as clever and entertaining as the dialogue itself.
The Predator heads into production this fall and hits theaters on February 9, 2018.