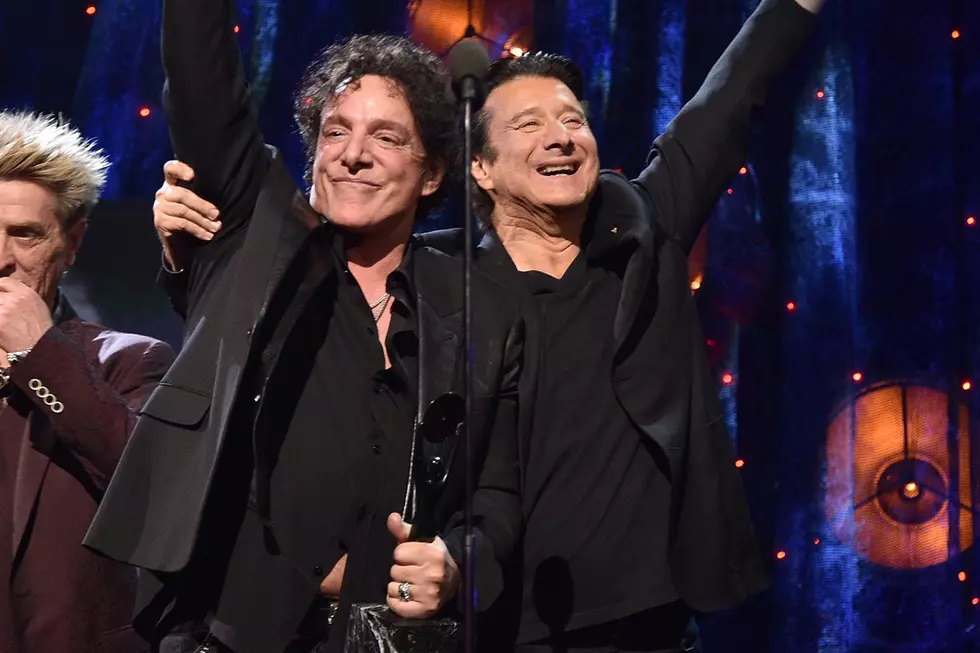 Journey Thank Fans for 'Tireless Love' at Rock and Roll Hall of Fame Induction
Kevin Mazur, Getty Images
"Tonight, I'm here to live out a lifelong dream, to induct the heart of San Francisco music into the Rock and Roll Hall of Fame," said Train frontman Pat Monahan, who inducted the band. "Their music has transcended all things that separate us as humans." After singing the "nah-nah-nah-nah-nah" part of "Lovin', Touchin', Squeezin'," he said, "They didn't even need lyrics. That's how bad-ass this band is. ... They weren't afraid to create songs that made us feel good. I don't believe in guilty pleasures. You either like it or you don't, and I have loved this band my whole life."
Guitarist Neal Schon was inducted along with fellow co-founding members Gregg Rolie and Ross Valory, as well as Steve Smith (their current drummer, he also served stints in 1978-85 and 1995-98), Aynsley Dunbar (1974-78) and Perry (1978-98).
"This was so long time coming, I thought it would never happen," said Schon, who spoke first for the band. "This is all about you, the fans, and the music that we made together. I love all you guys." "Without music fans, this place is empty," Rolie said. "This is about all you guys -- especially Journey fans tonight."
Drummer Smith acknowledged his jazz background and related how he discovered rock 'n' roll through Jimi Hendrix, Cream and Led Zeppelin. "But what I heard was Mitch Mitchell, Ginger Baker and John Bonham," he said. "At that moment I could relate to rock drumming and rock music."
Dunbar, Valory and keyboardist Jonathan Cain thanked various people who helped get them started along the way -- from family members to former bandmates to radio and industry people. Not so surprisingly, Perry spoke last. "I never saw a band like that in my entire life," he recalled of the years before joining the group that made him famous. "There was one instrument that was flying above the entire city ... that was the magic fingers of Neal Schon's guitar."
As he named the members of the band he played with, he asked in amazement, "Are you f---ing s---ting me? Any singer would give his ass for that s---!" He thanked each member individually. "Guys, I thank you so much for all the music we've written and recorded together. It will be forever in my heart."
Before he left the stage, Perry gave a "complete shout-out" to current Journey singer Arnel Pineda, "who sings his heart out every night." Pineda was not included in the band's induction, though he did join the band for its three-song performance, which Perry did not participate in. Perry also thanked fans. "You put us here," he said. "We would not be here had it not been for you and your tireless love and consistent devotion. You never have stopped. I've been gone a long time, I understand that, but I want you to know that you've never not been in my heart."
Speculation on whether Perry would join his longtime former bandmates ran rampant in the weeks leading up to Friday's ceremony at the Barclays Center in Brooklyn, N.Y. He was initially silent on the issue, before Cain indicated that a reunion was in the offing. Cain cautioned, however, that Perry had only agreed to join them in receiving the Hall of Fame award, not in an onstage performance.
This year's Rock and Roll Hall of Fame induction ceremony will debut on HBO at 8PM ET on April 29.
12 Bands With Key Members Snubbed by the Hall of Fame