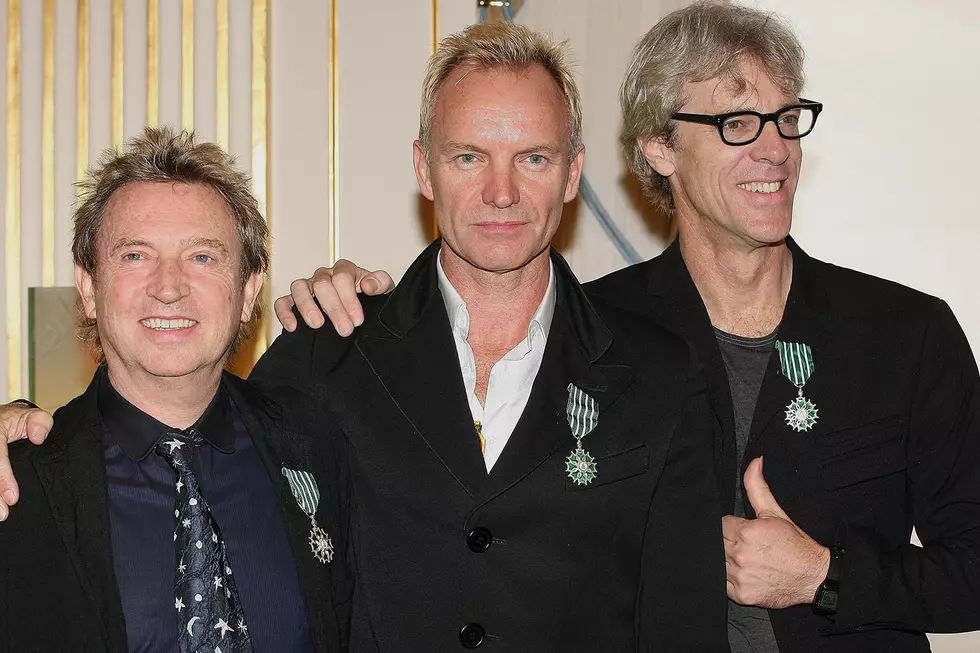 Stewart Copeland Rules Out Police Reunion for 'Honorable Reasons'
Julien Hekimian , Getty Images
Stewart Copeland ruled out another Police reunion for "honorable reasons," saying the trio will remain great friends as long as they don't try to work together again.
Frontman Sting, guitarist Andy Summers and Copeland split in 1986 after a hugely successful nine-year stint, reconnecting in 2003 and 2007. In a new interview with the Daily Express, the drummer surmised that the Police's original run lasted longer than it might have without Sting's loyalty to his bandmates.
"It was poisonous," Copeland said of their '80s experience. "We were as big as a band could be, and everyone thought we were three golden gods with heavenly lights shining from our eyes. But in that studio, we were three pricks with no respect for each other. We were abusive and we drove each other nuts."
He clarified: "It wasn't physical, it was icily silent between us. We were mourning the friendship and camaraderie we'd once shared."
Copeland, who recently announced the Police Deranged for Orchestra remake album, said the band's belief in the music kept everybody's standards high. "What I've learned studying these songs for orchestra is that Sting is one heck of a songwriter," he enthused. "I didn't pay attention to that back in the day. I was just banging stuff at the back of the stage. All I ever saw was the back of Sting's head, so I wasn't really aware what he was singing about. Now, I realize the depth those songs carry, which is down to Andy's sophisticated contributions too."
The drummer said intraband relationships began to fray as early as 1980, when Sting became their lead writer. "When he brought [his songs] to the band, he had to suffer compromise, because me and Andy might have ideas too," Copeland reflected. "That became less and less easy for Sting to deal with.
"In fact, we were very fortunate we kept Sting in the Police for as long as we did," he continued. "By the end of Zenyatta Mondatta, we were playing stadiums and were already as big as you could get. We only got another two albums of Sting suffering me and Andy messing with his perfect songwriting creations, because he's extremely loyal."
While Copeland still has love for his old bandmates and their music, he said it's best for them to enjoy it separately. "For entirely honorable reasons, mine, Sting and Andy's approach to music is different now," he explained. "It means we get along great, so long as we don't have to share a stage or a studio. We've all said to each other how much fun we're having playing the Police's music without having to deal with the other two pricks."
Still, Copeland would never say never to working with his ex-bandmates again. "More Police shows together? I'm optimistic," he quipped. "I'd totally give it a one-in-a-million chance."
The Police Albums Ranked
They made only handful of records, but all offer plenty of rewards.