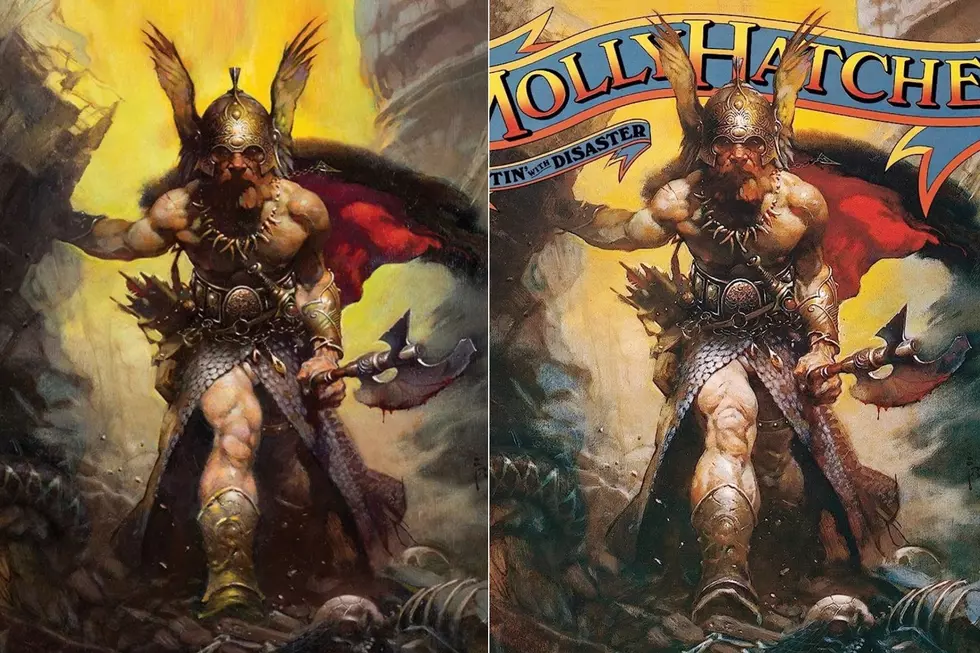 Molly Hatchet 'Flirtin' With Disaster' Art Sells for $6 Million
Frazetta Girls / Epic
"Dark Kingdom," the iconic Frank Frazetta painting that served as the cover of Molly Hatchet's 1979 album Flirtin' With Disaster, sold at Heritage Auctions last week for a record $6 million.
Flirtin' With Disaster was a high-water mark of Southern hard rock and a milestone for the band, ranking as their bestselling LP with U.S. sales exceeding 2 million. Songs like the title track and "Whiskey Man" are mainstays in the group's oeuvre, but part of the LP's success can surely be attributed to Frazetta's masterful artwork, which depicts a heavily armored warrior standing on a pile of bones.
Although the piece is most commonly associated with Molly Hatchet, "Dark Kingdom" first served as the cover of Karl Edward Wagner's 1976 novel Dark Crusade. The $6 million sale price is the highest of the fantasy art genre and Frazetta's catalog, surpassing his former record-holder, "Egyptian Queen," which fetched $5.4 million at a 2019 auction. Other Frazetta works to command seven-figure sums include "Death Dealer VI" ($1.79 million in 2018), "A Princess of Mars" ($1.2 million in 2020) and "At the Earth's Core" ($1.075 million in 2016).
"It's extraordinarily rare whenever an artwork universally considered the best in any genre becomes available on the open market," Heritage Auctions Executive Vice President Todd Hignite said in a statement. "We're excited – and proud – that today's record-setting result reflects that status for this immediately recognizable image, which is burned into the consciousness of several generations of Frazetta fans."
"Dark Kingdom" wasn't Frazetta's first or only collaboration with Molly Hatchet. His original "Death Dealer" graced the cover of the band's 1978 self-titled debut, and his "Conan the Conqueror" painting served as the cover of their third album, 1980's Beatin' the Odds. Frazetta — a prolific comic and paperback book cover artist who was often referred to as the "Godfather of Fantasy Art" — also supplied album art for the likes of Nazareth, Yngwie Malmsteen and Wolfmother before he died in 2010.
Top 25 Southern Rock Albums
For all of its woolly, trapped-in-the-'70s imagery, the genre has proven surprisingly resilient.