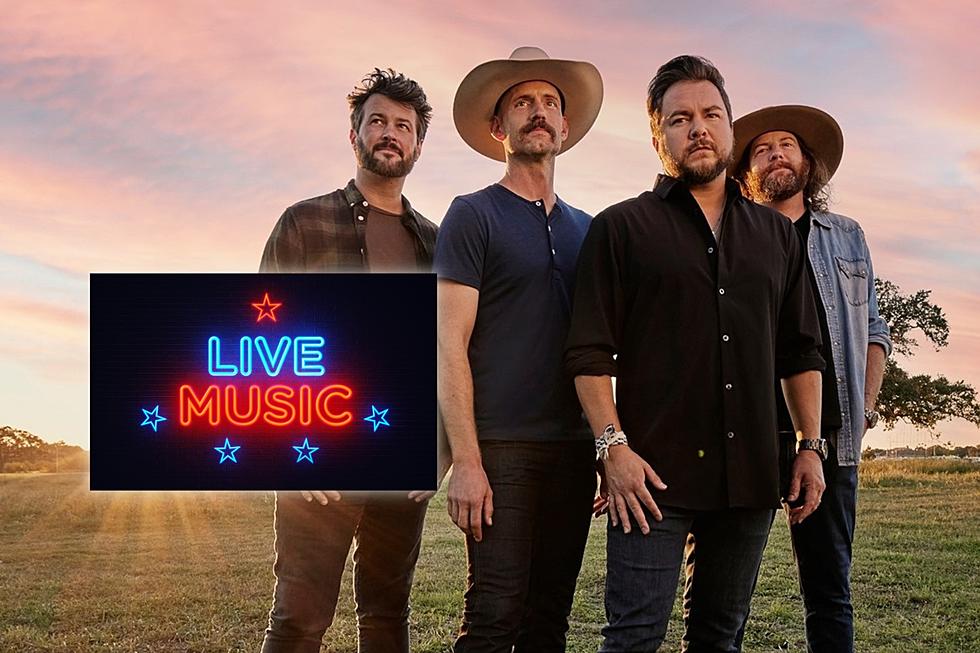 Eli Young Band Wraps The Weekend for Texarkana's Live Music Scene
Eli Young Band Live Music - Canva
Weekend number three for the month of September, and the Perot Theatre is a big destination for Saturday night as the Eli Young Band will be in town for a live show. Who else is playing where this weekend? Read on for Texarkana's Live Music Scene.
Perot Theatre
221 Main Street Texarkana, TX 75501
903-792-4992
PerotTheatre.org
Saturday: Eli Young Band 
Tickets are available here.
 Redbone Magic Brewing
1304 Texas Blvd
(903) 306-0822
RedboneMagic.com
Friday: Living Proof Band
Saturday: Trophy Husband Ban
Whiskey River Country
310 E 49TH ST
870-773-4903
WhiskeyRiverCountry.com
Friday:
Saturday: Tailgate Poets
67 Landing
8400 W 7th St
903-838-4745
67Landing.com
Thursday: Kris Tanton
Friday: Moss Brothers Band
Saturday: Black Ice
Twisted Fork
5522 Summerhill Rd
430-200-2775
TwistedForkTXK.com
Friday: Blackstrap
1923 Banana Club
223 Front St. - Facebook Page
903-824-7674
Thursday: The Piano Man
Friday: Travis Matthews  
Saturday:  The Experience
Fat Jacks Oyster and Sports Bar
870-774-5225
3324 N State Line Ave
Facebook
Thursday: Scott Ryan and the Devilish Folk
Friday: Eric Sharp 
Saturday: Jeremy Cochran 
La Fogata Bar & Grill
3401 Genoa Rd. Texarkana, AR
870-773-1879
Facebook
Thursday: RD Cavinder   
Friday: Daniel Ross, Josh Arnold Band
Saturday: Elvis Tribute Artist
Silver Star Smokehouse
5205 W Park Blvd, Texarkana, TX 75503
903-306-0778
Facebook
Saturday: ??
Hopkins Icehouse
301 East 3rd St. - Facebook Page
903-280-7553
HopkinsIcehouse.com
Friday: Jase and Heather
Saturday:
The Wild Hare
221 E Broad Street Texarkana, AR
870-773-6076
Facebook
Saturday: Liquid Lizards, Fusiallama, Qwilla, RX-Evil, $iege 
Crossties
324 East Broad Street Texarkana, AR
870-774-6134
crosstiestexarkana.com
SEE INSIDE: Guy Fieri Just Spent $7.3 Million For This Massive Florida Palace
The Mayor of Flavortown's new home offers 9,850 square feet of living space complete with panoramic views of more than 230 feet of waterfront. The sprawling home on Singer Island is true high-end living with an elevator, outdoor kitchen and a 50-foot infinity pool that overlooks the ocean. Here's a taste of what Fieri is getting for $7,325,000.
If you know about other bands playing in and around the Texarkana area, please let us know so we can add them to the list. jim.weaver@townsquaremedia.com
---
Perot Theatre
221 Main Street Texarkana, TX 75501
903-792-4992
PerotTheatre.org
Saturday: NA