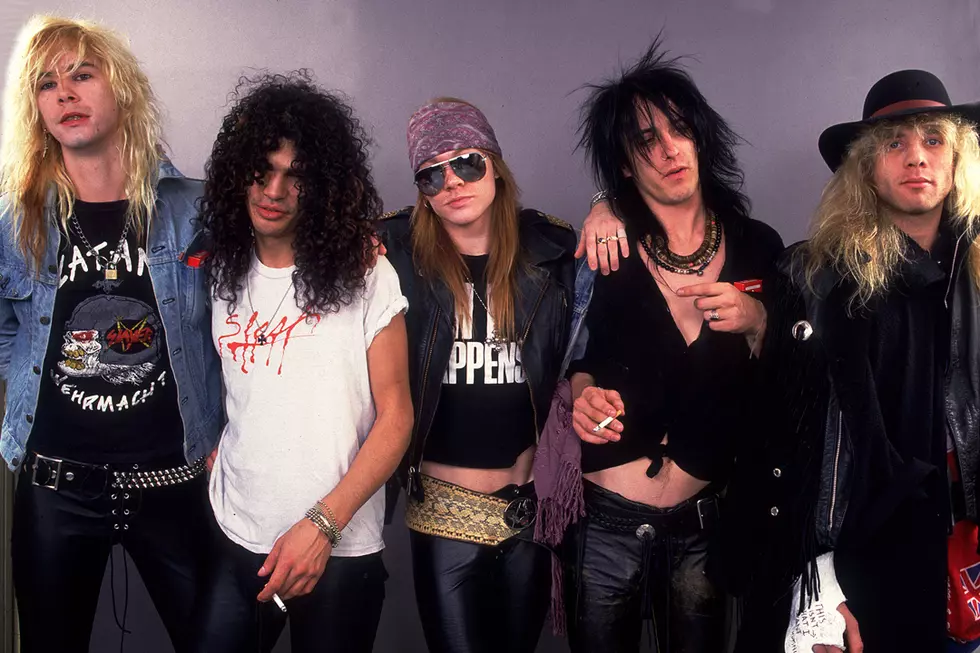 Guns N' Roses Waited for Izzy Stradlin at Rehearsals Every Day
Geffen
Guns N' Roses bassist Duff McKagan said the reunion lineup had amplifiers ready for guitarist Izzy Stradlin to join them in rehearsals, and kept the space open for him every day for at least three months.
By the time their Not in This Lifetime tour kicked off in 2016, Stradlin had failed to show up, though it was later reported he came close to taking part in at least one show before deciding against it.
"I don't know what the actual truth is," McKagan told Classic Rock Magazine in a new interview. "We definitely wanted to do it, and I think he entertained the thought, but he never came down and rehearsed. We had amps for him, ready to go. The first month of rehearsal went by … nothing. The second month of rehearsal came by, and we're talking to him: 'We're getting close, Iz.' The third month of rehearsal went by … nothing. I guess he just didn't want to tour this big and for so long."
Still, McKagan added, "I love that dude, but I gotta say that Richard Fortus is a hell of a player and we couldn't ask for a better guy."
Returning to the topic of new Guns N' Roses material, McKagan said, "You never know with this band. That's where I've landed on this thing. But the stuff's cookin'. Everybody's on top of their game at this point, musicianship-wise and songwriting-wise.  … We know our strengths. We're now looking forward to what's next, for sure, with Guns N' Roses. And after making this solo record, which is kind of mellow, I look forward to getting back to rocking the fuck out."
In a separate interview with MusicRadar, McKagan discussed how his playing had developed and changed over the years. "If you are a bass player and you want to be the front-center guy … well, let's just say that usually won't happen for you," he said. "Unless you're Lemmy! If you want to do that, use him as your guy. But generally, less is more as a bass player. I've really been learning that the more and more I play. I've been using less notes on this Guns N' Roses tour than I did back when we were originally playing these songs."
He also noted that he was impressed with how he and original drummer Steven Adler had worked together on keeping the band's rhythm section tight.
"I've discovered that I did work harder with our drummer and came up with the right fills for songs like 'Out Ta Get Me' or 'My Michelle' or 'Welcome to the Jungle,'" he said. "We didn't overplay them. So listening back now, I'm stoked with myself as a young kid. I think to myself, 'Oh, you did the right shit there!'"
Guns N' Roses Lineup Changes: A Complete Guide (We Think)