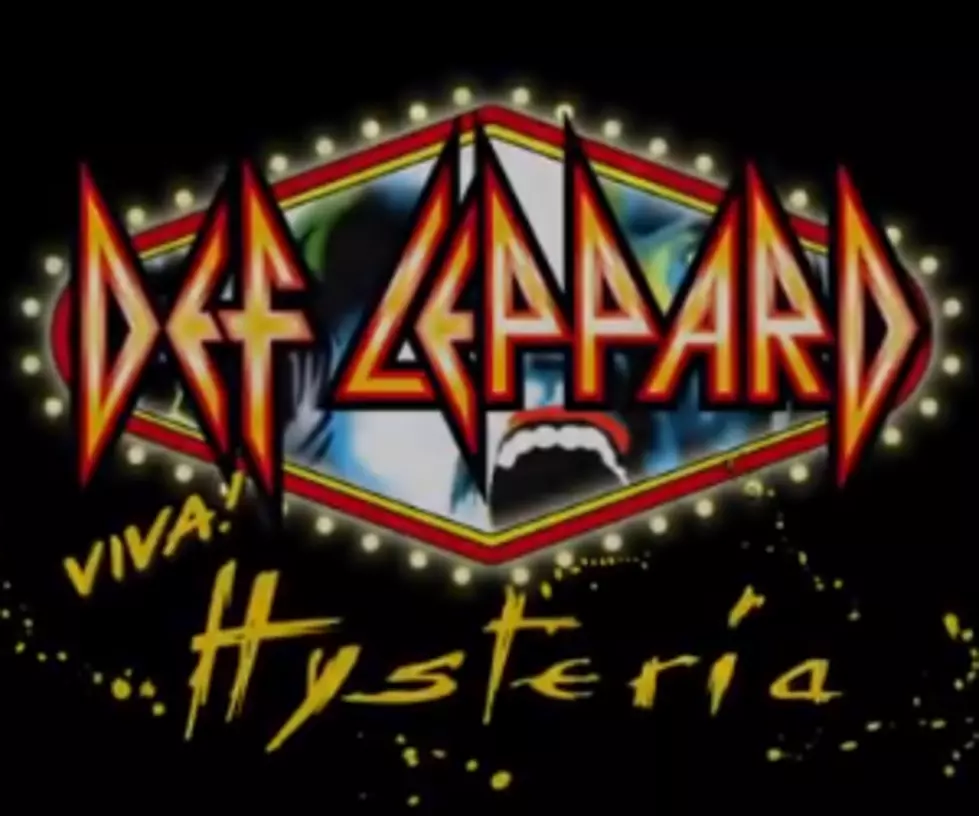 Def Leppard Working Up A Vegas Residency; CD, DVD and Blu-ray Documenting Shows.
YouTube
Def Leppard has just released new concert video and album packages capturing highlights from the veteran rockers' Las Vegas residency this past spring during which they played their entire classic 1987 album Hysteria.  Viva! Hysteria: Live at the Joint, Las Vegas is available as a two-CD set, DVD, Blu-ray, double-CD/DVD set and digital download.
The videos and CDs feature performances from various shows during Def Leppard's 11-night Vegas stint, and include renditions of all songs from the 12-times-platinum Hysteria, as well as such non-Hysteria hits as "Rock of Ages" and "Photograph."  Also featured is an opening set of rarities and fan favorites that the group played under the moniker Ded Flatbird.
Def Leppard guitarist Vivian Campbell shared some recollections about the residency, including his favorite aspects about the shows.
Campbell noted that the performances marked two firsts for Def Leppard.  "We'd never, ever done a residency anywhere, and we'd never played an album in its sequence, in its entirety," he revealed.  "So we put together a special show for it."
Most of the songs on Hysteria have long been part of Leppard's touring set, but the 51-year-old musician explained that, for the residency, the band decided to bring the tunes back to their original arrangements.
"The songs are a joy to play," he said.  "They really are so well crafted, but…we've been playing so many of them for years, [so] it was refreshing to go back and to relearn them a little bit and to kind of correct the course."
In addition, he pointed out that he had to learn three of the tunes that the group had never played since he joined the lineup back in 1992.  "That's always fresh to do something that's new or at least relatively new," he maintained. Campbell said "one of the most fun aspects of the shows was the fact that we got to be our own opening act," referring to the opening set the band played under the alias Ded Flatbird.  Besides that set and the main Hysteria performance, the show also included an intermission that featured a short film about Def Leppard's history.
"It made for a long night, wearin' multiple hats, but it was great fun for us to do it," declared the guitarist.
As previously reported, Campbell was diagnosed Hodgkin's lymphoma just before Def Leppard began its Vegas stint, but said  he's feeling good, and recently completed chemotherapy treatment.  He's continued to remain active, both with Leppard and his new Dio spinoff project Last in Line.
Meanwhile, fans who missed Leppard's Vegas performances may eventually get another chance to see the band in Sin City.
"We had such a great time at Vegas…and there is talk about going back," Campbell reported.  "Whether or not we'll go back and do the Hysteria thing again or we'd go back and do another album, who knows?...But I'd say there's a very strong possibility we'll be back there."