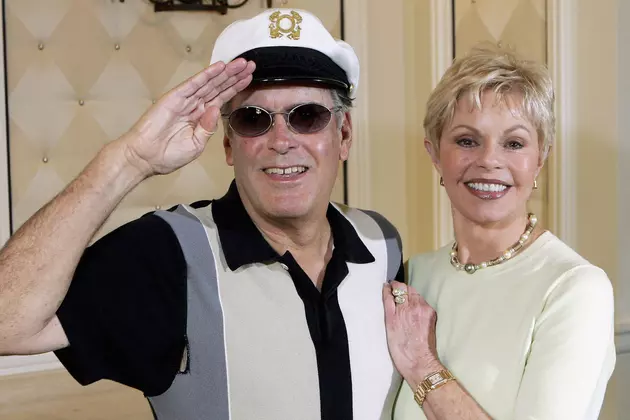 The Surprising Rock History of the Captain and Tennille
Ethan Miller, Getty Images
The death of Daryl Dragon on Jan. 2, 2019, drew a permanent line under the career of the Captain & Tennille, a duo that climbed to pop fame in the '70s and became known in some circles as "America's ABBA."
Dragon, who used the stage name Captain Keyboard, had been receiving hospice treatment for some time before dying of renal failure in Prescott, Ariz., at age 76.
He worked with the Beach Boys for five years before quitting in 1972 to form the Captain & Tennille with his wife, Toni Tennille. Their mid-'70s fame appeared to justify the career move, and they continued working together until their divorce in 2013, after which they remained close.
"He was a brilliant musician with many friends who loved him greatly," Tennille said in a statement following Dragon's death. "I was at my most creative in my life when I was with him." She confirmed that she was with him when he died.
But the duo had a few more rock-related entries in its resume, the highlights of which can be read below.
The Hippie Rock Musical
Dragon and Tennille first worked together after she'd written music for the 1972 rock musical Mother Earth and hired him as pianist for its Broadway run. While they'd later become known for their love songs, the subject of Mother Earth was a different type of love. It's described as being "based on man's ill-spent use of his environment" with sketches including "spoofs of General Motors and other sometimes ecological mobsters" while "a sketch on a television quiz show called Killatron comes near to lauding suicide – an ecological reality with twists of irony and satirical bravura."
Beach Boy and Beach Girl
Returning the favor, Dragon hired Tennille to become a fellow member of the Beach Boys' touring lineup, playing additional keyboards. By that time Dragon was already known as Captain Keyboard. While some versions of the story say the title was created by Mike Love, Dragon recalled in 2009 that "it was after I started jumping around on the piano on stage during 'Help Me Rhonda' … I kind of did something as a joke and called myself Captain Keyboard and got Mike Love to introduce me and give me a solo. And everybody started jumping around. The Beach Boys were always kind of conservative-approached onstage. Then Mike saw the way I got a reaction when they started screaming, and so he started prancing around like the lead singer of the Stones. What's his name? Jagger."
Two Big Offers
Dragon and Tennille began developing their duo show in low-key clubs during downtime from the Beach Boys. He claimed the group made him a big offer when he told them of his decision to quit in 1972. "None of them remember it today, but they did ask me to become a full-time member of the band," he said. "But I wanted to start my own group with my wife and work in clubs for $20 a night, and they didn't understand that because I was making a lot more with the Beach Boys. But I believed in Toni and I didn't believe in them."
By that time, Dragon had also developed a strong rapport with drummer Dennis Wilson, and they'd worked together on material that demonstrated he had abilities far beyond those being used in the Beach Boys. "[Dennis] was talking to me about starting up a solo offshoot group," Dragon recalled. "He could have done that too. He was kind of upset when I left because we were talking about it, but with his drinking and everything, it would have been a gamble."
The Elton John Connection
Elton John struggled with his vision for the 1974 song "Don't Let the Sun Go Down on Me." He wanted a Beach Boys feel, and came up with the idea of having a wide range of celebrity names providing backing vocals. While Bruce Johnston, Carl Wilson, Dragon and Tennille all recorded vocals for the hit song (found on John's Caribou LP), Dragon's contribution wasn't used in the final version. John's stylized delivery of the line "don't discard me" was supposed to be dropped from the song until Tennille talked him out of it, and it's gone on to be something of a trademark moment. Both Tennille and Dragon worked with John again on his Blue Moves and 21 at 33 albums.
The Pink Floyd Connection
Bruce Johnston – who'd originally brought Dragon into the Beach Boys along with his brother Doug Dragon – was one of only two members of the band to make it to sessions for Pink Floyd's 1979 classic The Wall. Roger Waters originally intended to have the whole group provide backing vocals, bit eventually settled on Johnston and Tennille, who both appeared on "The Show Must Go On" and "Waiting for the Worms."
Tennille later recalled a meeting with a young Floyd fan when she went to see the band in concert. "There was a 15-year-old boy sitting in front of me who recognized me," she said. "He turned around and snottily said, 'What are you doing here?' So I told him I sang on the album. He ran off to find a friend who had brought the LP to the show, and looked at the back to see if my name was really on there. A few minutes later, he came back and apologetically said, 'Can I have your autograph?'"