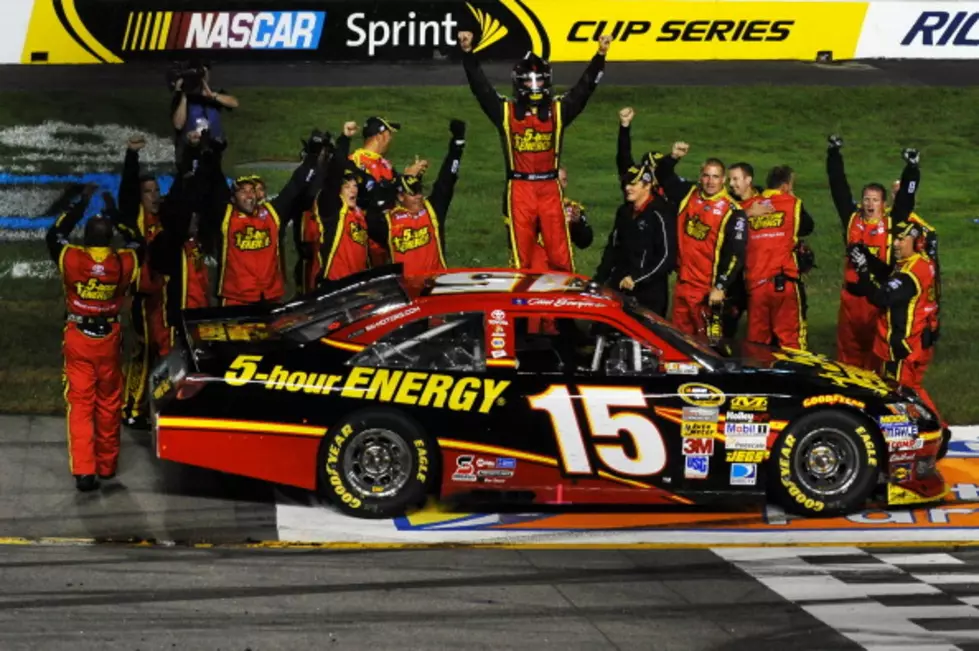 Bowyer Wins the Race, Gordon Races into the Chase, and Karma Catches Kyle [VIDEO]
With rain delays, and interruptions, the tension was getting thick at Richmond Speedway Saturday night.  When the checkered flag finally dropped well after midnight, it was Clint Bowyer finishing just 1.198 seconds in front of Jeff Gordon for the victory.
This was Bowyer's second win of the year, his second win at Richmond, and the seventh win of his Sprint Cup career.  On top of that, Clint, and his MWR team-mate Martin Truex Jr. are the first drivers for Michael Waltrip Racing to make the Sprint Cup "Chase" for the Championship.
Even though Jeff Gordon didn't get the race win, he was able to knock Kyle Busch out of contention for the final wild-card spot for in the chase for the cup.  That means that all four of Hendricks Motor Sports teams are in the chase for the Championship.
The field of 12 drivers is now set for the 10 race "Chase for the Cup"...(NASCAR's version of the play-offs.)  Jeff Gordon, driver of the #24 Drive to End Hunger Chevrolet, Brad Keselowski, driver of the #2 Miller Lite Dodge, Denny Hamlin, driver of the #11 FedEx Express Toyota, Martin Truex Jr., driver of the #56 NAPA Auto Parts Toyota, Dale Earnhardt Jr., driver of the #88 Diet Mountain Dew/National Guard Chevrolet, Jimmie Johnson, driver of the #48 Lowe's Chevrolet, Tony Stewart, driver of the #14 Office Depot/Mobil 1 Chevrolet, Greg Biffle, driver of the #16 3M/Owens & Minor Ford, Kevin Harvick, driver of the #29 Budweiser Chevrolet, Kasey Kahne, driver of the #5 Quaker State Chevrolet, Clint Bowyer, driver of the #15 5-hour Energy Toyota, and Matt Kenseth, driver of the #17 Best Buy Ford.
The Ten Race Chase begins this Sunday with the Geico 400 at Chicagoland Speedway.  Coverage will begin at noon on ESPN.  Here is the order of the 12 drivers competing for the Cup...
(Kyle Busch has really made a lot of enemies with his on track antics, and off track attitude issues, and I feel that Karma caught Kyle this last weekend... What do you think?)