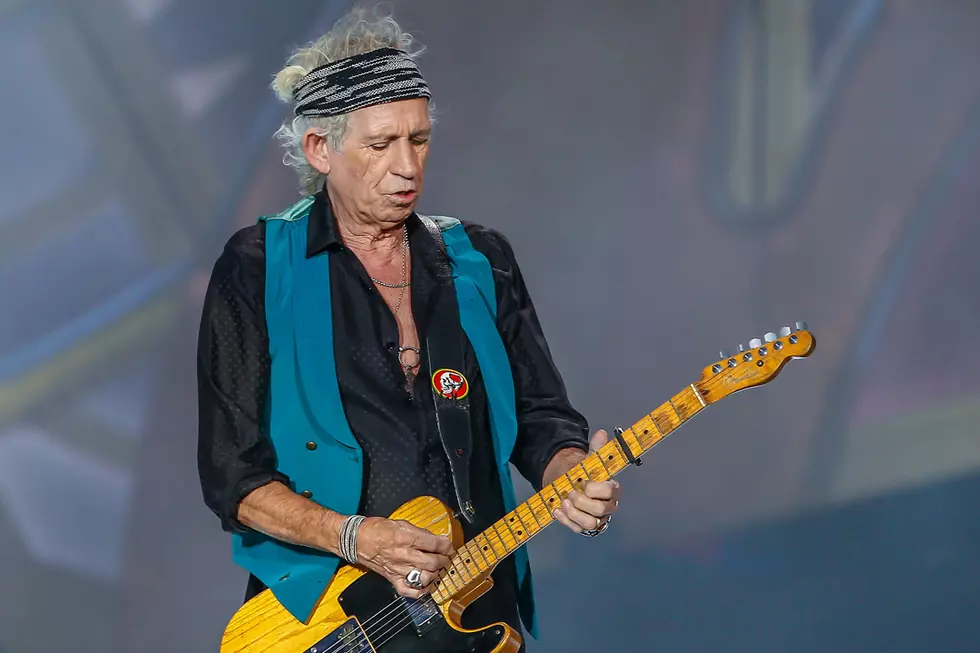 Keith Richards Probably Cracked a Rib Onstage During the Last Rolling Stones Tour
Michael Hickey, Getty Images
Given the number of times Keith Richards almost died, a possibly cracked rib isn't the worst thing that's ever happened to him. In fact, it didn't even get him to leave the stage. In a new interview, he reveals that it happened in the middle of a Rolling Stones concert this past summer.
Rolling Stone gave a teaser of its upcoming cover interview with Richards, who says the incident took place at the Stones' July 4 show in Indianapolis. He was running down the runway that extends out to the floor during the saxophone solo on "Miss You," and "somebody tossed a red straw boater hat," he recalled. "It landed right in front of my feet. I kicked it aside – 'All right, that's out of the way' – and it f---ing bounced back in front of me, and I hit the floor. And suddenly I'm on my hands and knees in front of 60,000 people. My bracelet came off from the shock. It was, 'Okay, get out of this one, pal!""
Richards immediately diagnosed it. "I might've cracked a rib," he said, but quickly decided to play through it. "There's nothing doctors can do about it. I thought, 'S---, if I let them know how much I'm hurting, the doctors and the insurance companies will be like, 'Cancel the next gigs.' F--- it. I'll live with it. After 50 years on the stage, you're going to fall over occasionally and take a knock."
Elsewhere in the interview, Richards confirms that the Stones are planning to record a new album, something he's been saying since late July, and that one of his favorite things to do these days is to play Scrabble with his 15-year-old grandson in a typically Richards manner. "He likes to hang with me, but he's got to go to school still," he said. "So I play Scrabble with him on my computer. It's the only thing I use the thing for. I give him the worst words I can think of: s---head, a--hole."
Rolling Stones Albums, Ranked Worst to Best
See Keith Richards Through the Years