Leonardo DiCaprio's Oscar Win Is Show's Most-Tweeted Moment Ever (Sorry, Ellen)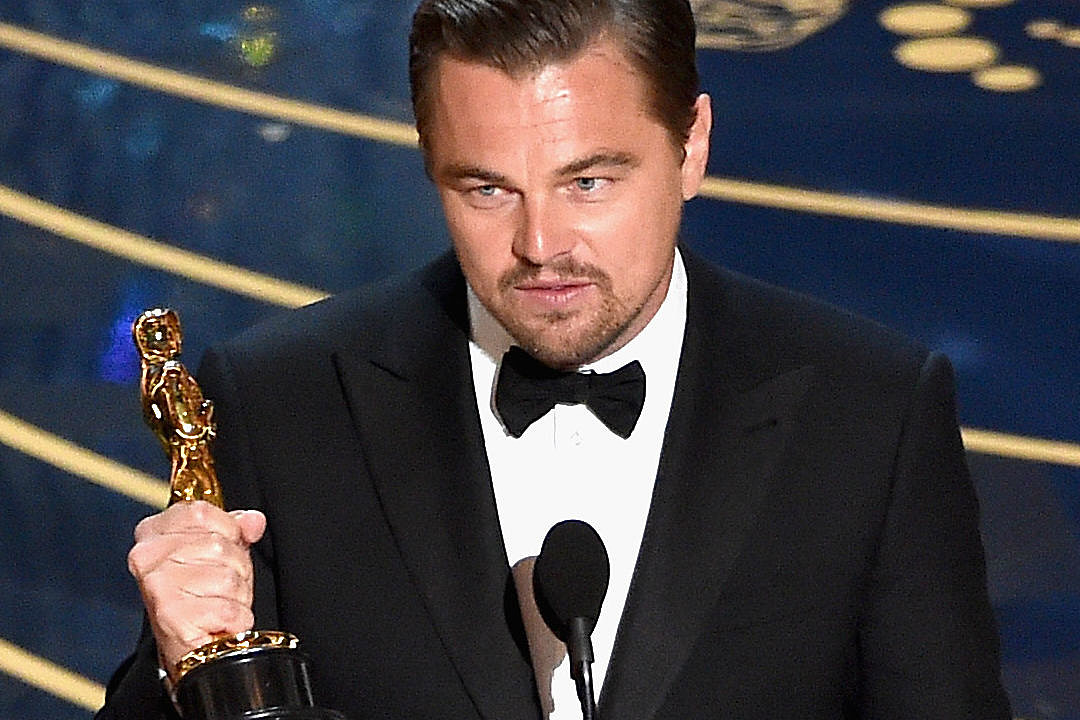 Leonard DiCaprio can't say getting mauled by a bear was in vain — not only did his Revenant role earn him his very first Oscar at last night's (February 28) Academy Awards, it amounted to the most-tweeted moment in the broadcast's history.
According to The Hollywood Reporter, Leo's winning moment notched 440,000 tweets per minute. By contrast, Ellen DeGeneres' wildly popular A-list selfie in 2014 achieved 255,000 tweets.
If only Bradley's arm was longer. Best photo ever. #oscars pic.twitter.com/C9U5NOtGap

— Ellen DeGeneres (@TheEllenShow) March 3, 2014
Both faraway fans of Leo's and some of the actor's peers in entertainment shared sentiments that bordered on relief for the long-time-coming acknowledgment (he'd been nominated for four previous acting awards). Still, others took the opportunity to mock DiCaprio for the idea that someone who's as rich and famous as he should be entitled to anything.
Beautiful speech by @LeoDiCaprio and so many congratulations to you sir. Climate change is real- don't be brainwashed! Love your Planet! ❤️

— Ellie Goulding (@elliegoulding) February 29, 2016
Beautiful and much deserved win for @LeoDiCaprio — and a classy, much deserved pat on the back for our old pal, Earth. @ClimateReality

— Ryan Reynolds (@VancityReynolds) February 29, 2016
Finally!!! Our guy!!! We're so so happy for Leo!!!

— KANYE WEST (@kanyewest) February 29, 2016
The Oscars are today! You know, the awards show where Leonardo DiCaprio is "overdue" but black people can "wait till next year."

— Bette Midler (@BetteMidler) February 28, 2016
So happy for Leo! Finally this uber privileged, world famous, multi-millionaire actor gets a bit of luck in his hellish existence..#Oscars

— Steve Jones (@SteveJones) February 29, 2016
Leonardo DiCaprio, an A list millionaire who has spent the last 2 decades fucking 20-year-old supermodels, finally catches a break

— Erin Gloria Ryan (@morninggloria) February 29, 2016
In an acceptance speech, DiCaprio thanked his peers for their recognition, and insisted that he didn't take the moment for granted. He also took the opportunity to canvass for more aggressive global action against climate change, which he claimed is the greatest threat to the world's population.
Subscribe to Eagle 106.3 on
"We need to support leaders around the world who do not speak for the big polluters, but who speak for all of humanity, for the indigenous people of the world, for the billions and billions of underprivileged people out there who would be most affected by this," he said. "For our children's children, and for those people out there whose voices have been drowned out by the politics of greed. I thank you all for this amazing award tonight. Let us not take this planet for granted. I do not take tonight for granted."
Surprised to hear Leo's moment was so buzzworthy? Tell us what you thought of the big night overall.
Check out a collection of red carpet looks from the 2016 Oscars:

Source:
Leonardo DiCaprio's Oscar Win Is Show's Most-Tweeted Moment Ever (Sorry, Ellen)